Laser & Regenerative Center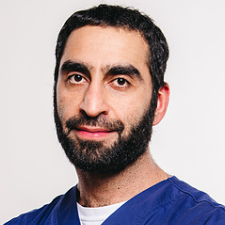  Address
4760 Red Bank Expressway, Suite 226
Cincinnati, OH, 45227
 Phone
513-922-2204
 Email
info@landrcenter.com
Dr. Zeeshan Tayeb is a double-board certified physician with a specialized fellowship in the interventional spine, pain, and sports medicine. He earned his medical degree from Wright State University School of Medicine and completed his PM&R residency at the University of Toledo Medical Center. Dr. Tayeb went on to complete advanced training at Nexus Pain Care in Provo, UT. As an international speaker, he instructs both physicians and those in the medical industry
BACKGROUND AND CURRENT ACTIVITIES
Dr. Tayeb's background in PM&R has provided the foundation for his comprehensive approach to treating the whole person. Seeking to integrate his knowledge on healing and optimization, he developed a passion for functional & regenerative medicine as a way to enhance his patients' lives. 
Dr. Tayeb has done extensive training and education in both functional & regenerative medicine and specializes in state-of-the-art treatments, including laser therapies, PRP and stem-cell injections, and nutritional and hormonal optimization. Many patients experience aches and pains, loss of muscle and strength, decreased endurance, and lack of desire for physical activity. Treatment at the Laser & Regenerative Center focuses on restoring quality of life and helping you become the best version of yourself. 

© 2021 stem cell physicians network. All rights reserved.