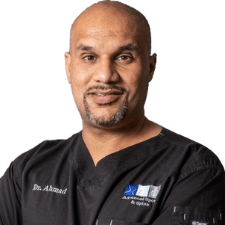 Dr. Ahmad is a board-certified physiatrist who specializes in interventional sports medicine, spine medicine, and pain management. He takes an integrative, holistic approach to pain management by offering patients treatment options without surgery or opiates. He offers traditional pain management and regenerative medicine to provide patients with the options they need. With over 25,000 injections performed, Dr. Ahmad is the stem cell expert you need!
BACKGROUND AND CURRENT ACTIVITIES
Dr. Ahmad's training began with a medical internship at Largo Medical Center in Tampa/St. Petersburg, Florida. He completed a residency in Physical Medicine & Rehabilitation at the University of Miami/Jackson Memorial. His fellowship in musculoskeletal medicine and interventional pain management was completed at the Center for Advanced Pain Management and Rehabilitation in New Jersey.
Professionally, Dr. Ahmad has had work published in peer-reviewed journals and has presented his research findings at conferences nationwide. He is a member of the following organizations:

© 2021 stem cell physicians network. All rights reserved.