Atlanta Orthopedic Institute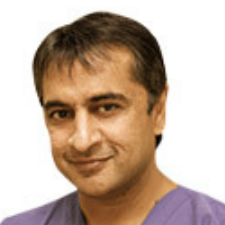 Dr. Raj Pandya,
Founder and President
 Address
3200 Downwood Cir NW, STE 410
Atlanta, GA 30327
 Phone
404-352-4779
Dr. Raj Pandya is a surgeon, inventor, entrepreneur, and restaurateur. Specializing in sports medicine, knee and shoulder surgery, he is the Founder and President of the Atlanta Orthopaedic Institute (AOI), AOI Surgery Center, and AOI Performance Physical Therapy. He is Chairman, Founder, and CEO of Unicore Health, and PanOrthopaedics, and Chairman of Twisted Taco restaurant group. He serves as Medical Director and Consultant to global companies and healthcare ventures, and as Team Physician to professional, Olympic, and collegiate athletic programs.
BACKGROUND AND CURRENT ACTIVITIES
As Founder and owner of AOI, Dr. Pandya has developed a clinically integrated model to deliver world-class orthopedic care including a state-of-the-art destination ambulatory surgery and educational facility, AOI Surgery Center, and advanced rehabilitation cater, AOIPT. It features advanced arthroscopic, total joint, and spine technologies. The outcome-based model delivers optimal cost-efficient care, facilitates and documents return to function, and provides clinical and financial metrics. The system features advanced technology portals for data mining and communication.

© 2021 stem cell physicians network. All rights reserved.