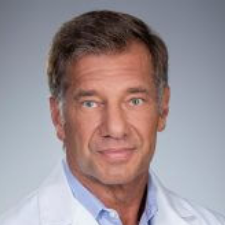 Dr. James L. Chappuis,
MD, FACS
James L. Chappuis, MD, FACS​, is the visionary, founder, owner, senior orthopaedic spine surgeon and Chief Executive Officer of Orthopaedic & Spine Surgery of Atlanta, a/k/a SpineCenterAtlanta, a comprehensive physician guided spine care program in Atlanta (Buckhead), Georgia. Dr. Chappuis holds a Bachelor's of Science in Biology Summa Cum Laude from The University of Toledo (Ohio) and a Doctorate of Medicine from the Medical College of Ohio (Toledo, Ohio). He completed his Internship with Mercy Hospital in Toledo, Ohio, two Residencies, first in general surgery at Methodist Hospital in Memphis, Tennessee, and the second in Orthopaedic Surgery at the Campbell Clinic/University of Tennessee. Dr. Chappuis completed his AO Spine Fellowship with professor Jorgen Harms at Klinikum Karlsbad-Langensteinbach in Karlsbad, Germany.
BACKGROUND AND CURRENT ACTIVITIES
Dr. Chappuis has been recognized by Becker's Orthopaedic, Spine & Pain Management Review's "207 Spine Surgeons and Specialists to Know", "89 Spinal Surgeon Device Inventors & Innovators to Know" and "90 Spinal Surgeon Device Inventors & Innovators to Know". He co-authored a book in October 2004 with John Lee titled, "Doctor I'm Scared", A Concise & Practical Guide to reducing the fears of surgery. He has been featured in numerous articles including "The Good Doctor", Marietta Daily Journal, Lifestyle Section, September 3, 2002; "How to Avoid Lower Back Pain from Exercise", Atlanta Sports & Fitness Magazine, Health Section, page 7, August 2002; "This Pioneering Spine Surgeon Uses the Latest Techniques and Technology, Some of Which he Developed", Metro Atlanta MD News, November/December 2001, cover article.
Dr. Chappuis has served numerous academic appointments, attended numerous scientific meetings, served board appointments, and performed civic and community service throughout his storied medical career. He enjoys art, horticulture, college and professional athletics, research and development, and travel. He has a passion for helping patients to recover from debilitating spinal disorders using the latest surgical technology. For conditions that do not warrant surgery, Dr. Chappuis believes in the merging of customary medical techniques with complementary and holistic options to provide patients with the greatest chance to heal and recover. When Dr. Chappuis is not in surgery or caring for patients in his state-of-the-art spine center of excellence, you will find him hosting events at the Westside Cultural Arts Center in West Midtown Atlanta.

© 2021 stem cell physicians network. All rights reserved.