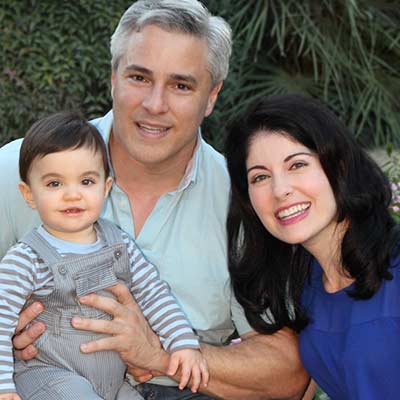 John Stavrakos,
M.S., M.D.
The focus of our office is WELLNESS.
To that end, we employ multiple modalities to maximize recovery and performance for not simply muscle and joint injuries, but from health issues stemming from nutritional and hormonal deficiencies.
Prolotherapy, Platelet-Rich Plasma, Stem Cell and Exosome Therapy injections are offered (you will receive an in-depth consultation to determine which of the above would be best for you, including a review of pertinent medical records and imaging studies), as well as Intravenous (IV) stem cell or exosome therapy for certain metabolic or autoimmune conditions.
Hormone optimization is a pillar of our treatment plan—it's important to address some the hormonal deficiencies that can come with age and/or chronic illness in order to truly make progress on the path to wellness. This is done in a safe, careful process to enable successful outcomes.
IV nutritional therapy will be available soon as well, to combat or overcome a host of illnesses and provide energy, immune support and anti-aging properties.
"I would recommend this extraordinary doctor to anyone who has a neurological or orthopedic and/or muscular problem. I am so grateful that after years of well-intended but incorrect diagnoses and plans of treatment, I finally found the one person who has put me on the road to recovery of what was and soon will be again, a normal life."
Maria S.
"I injured my left arm while lifting a heavy object during a household move. The pain manifested in the upper arm, back, side and front. Over the months the pain grew increasingly worse, while the arm became steadily debilitated. I couldn't perform basic tasks nor enjoy any of my hobbies and sports activities. The daily pain level was so high, both my work and basic daily life-tasks were impacted. I traveled to see Dr. Stavrakos, and he was able to diagnose exactly what the injuries were to my arm and recommended Platelet Rich Plasma (PRP) therapy.
Over the course of seven weeks and two PRP therapies my arm has steadily come back to 90% functionality. Most importantly the severe pain is reduced 95%. I can perform my daily activities with ease now and even enjoyed Archery on a recent vacation. Dr. Stavrakos helped me with nutritional changes and physical therapy recommendations to ensure the most effective healing progress. I'm fortunate to have such an accomplished physician bring his expertise combined with my body's own natural resources to get my arm on a direct path to wellness. Thank you so much Dr. Stavrakos!"
Tim I.
Background and Current Activities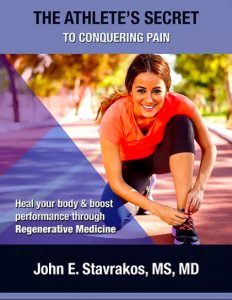 Dr. Stavrakos is the author of
"The Athlete's Secret to Conquering Pain; Heal Your Body and Boost Performance Through Regenerative Medicine"
. He received his medical degree (MD) from Rosalind Franklin School of Medicine in North Chicago, IL. and underwent a residency in Physical Medicine and Rehabilitation (PM&R) at Stanford University and the Medical College of Wisconsin. After residency he completed his fellowship in Sports Medicine at the Medical College of Wisconsin.
He is a member of the American Board of Physical Medicine & Rehabilitation and the American Osteopathic Association of Prolotherapy and Regenerative Medicine (AOAPRM), where he has been a lecturer as well. He also does teaching seminars in several states to health care providers on regenerative medicine.
Dr. Stavrakos is opening up a new practice in Charlotte, NC soon—stay tuned for details—and will be happily accepting new patients. He is a former college gymnast and Division IA cheerleader, and a lifelong martial artist/4th degree black belt and the title of Instructor. He has been a regenerative medicine/hormone optimization patient himself for several years now and can attest to the life changing benefits of these treatments.
In his free time he enjoys spending time with his wife and two young boys, hiking/the outdoors and settling down with a good book.
© 2021 stem cell physicians network. All rights reserved.