AN EXCLUSIVE INVITATION FOR STEM CELL PHYSICIANS AND PROVIDERS ONLY
The biggest challenge faced by all physicians is getting MORE patients in the door.
We have the solution, we have referrals.
Introducing the Stem Cell Physicians Network, a patient referral service and marketing arm conceived by Dr. Joe Christiano specifically to help you acquire new patients. Keep reading to learn what our service offers and how it can help you grow your practice.
JOIN THE STEM CELL PHYSICIANS NETWORK TO ENJOY THESE BENEFITS:
52 weeks of online exposure of your practice through your custom profile
Potential stem cell patients via Dr. Christiano's radio and podcast airings
52 weeks of steady patient referrals sent to the website
Placement in Dr. Christiano's book Stem Cell Revolution (per new reprints)
Potential stem cell referrals via Dr. Christiano's weekly national TV shows
Interview segment in podcast airing with Dr. Christiano
Potential stem cell patients via Dr. Christiano's book, Stem Cell Revolution
VIP Discount at annual Stem Cell Events (based on availability)
GET STARTED TODAY IN JUST THREE EASY STEPS
1 Complete the checkout to join the Stem Cell Physicians Network.
2 Submit your profile details through our form collection tool.
3 Review and approve your profile to be published online.
(You'll then be eligible for referrals through our network.)
Are you ready to increase the number of patients you see through the exposure of our highly publicized network? Click below to get started for $1800/annually.
See the sample profile page below.
You'll get your own professionally designed profile page
Z Completely "hands-free" production, you provide the details and we create your customized profile
Z Share your full practice details for one or multiple locations including phone, address, email and website
Z Introduce potential patients to your practice and staff through text, photos, and even video
Z Tailor your marketing message to your potential stem cell patients
Z Provide additional information at your discretion such as physician background, career highlights or what to expect at a first appointment
Z Profile revisions are included for the duration of your membership
Z Traffic driven to website with exposure to your profile through Dr. Joe Christiano's media appearances
Include photo or video ————>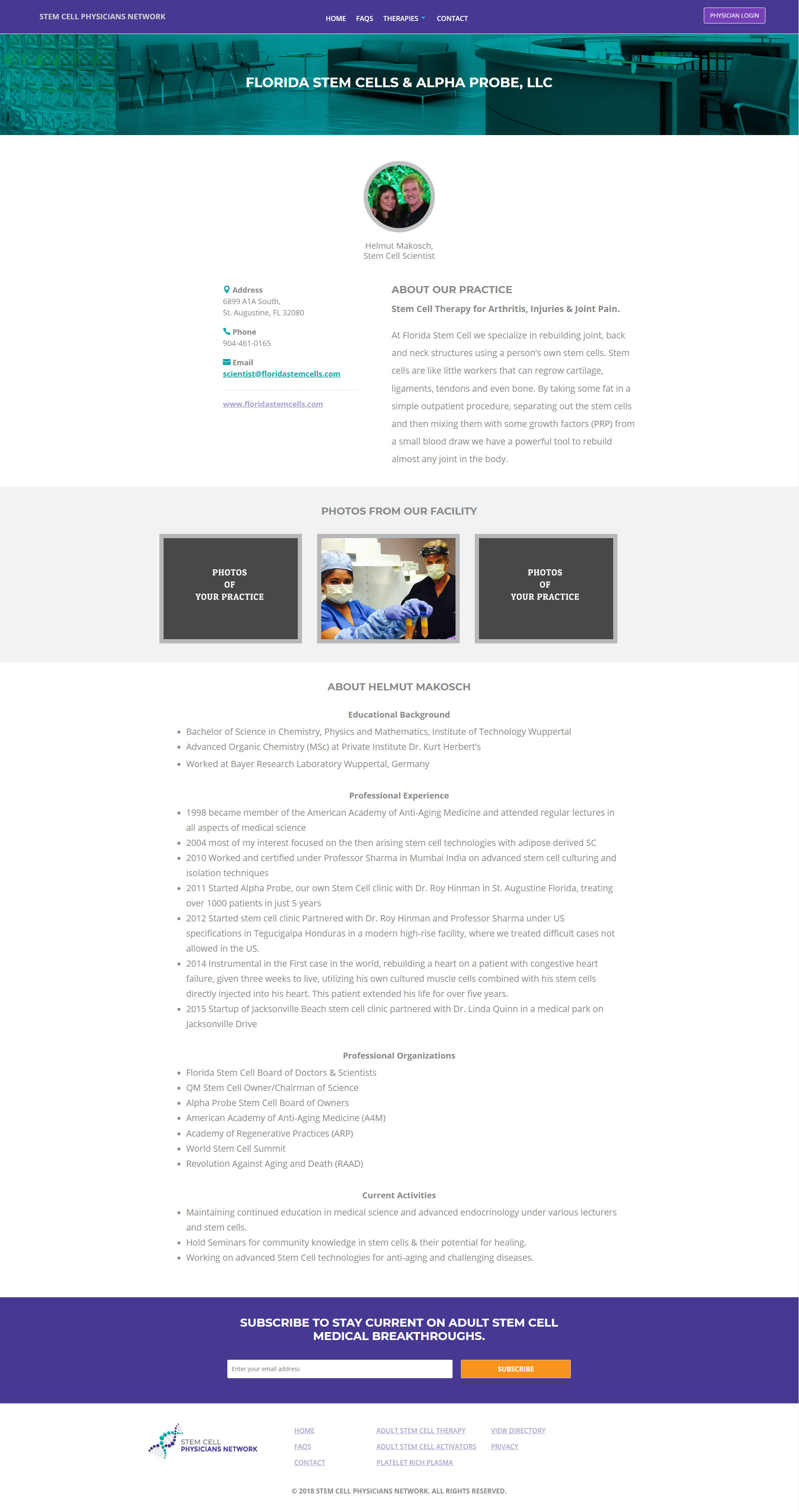 YOU'LL BE FEATURED ON THE HOME PAGE THROUGH AN INTERACTIVE MAP
Z Physicians are listed on the map via their geographic location
Z Contact details conveniently and immediately displayed
Z Map listing links to your personal profile page
Z Limited number of listings accepted per region (3) to minimize your local competition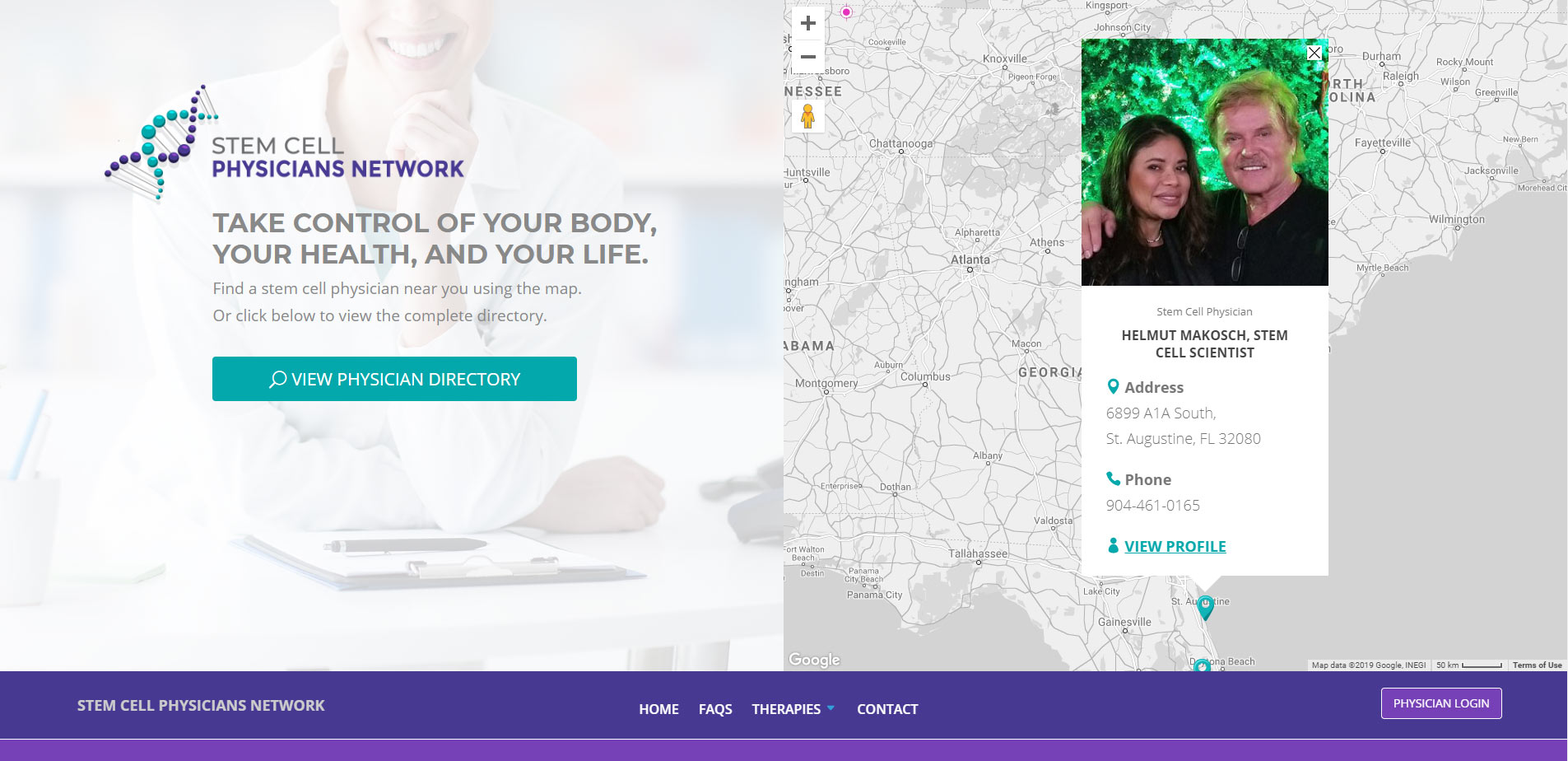 Additional features and functionality to be scheduled upon member request.
you'll get maximum exposure to LEADS COMING from OUR FOUNDERS SYNDICATED APPEARANCES AND PUBLICATIONS
(We're sure you realize, this is an incredibly unique opportunity.)
WHO IS DR. JOE CHRISTIANO?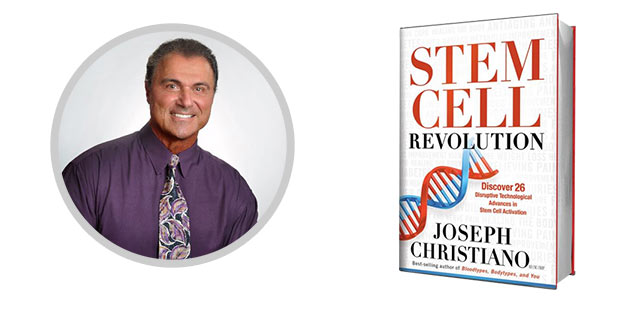 Dr. Christiano is a huge advocate of stem cell therapy as well as a former stem cell patient. He is seen on his weekly television show as well as radio interviews and podcasts across the country, educating his viewers and listening audience as a reputable source on the benefits of stem cell therapy, PRP and stem cell activation. He is also a best-selling author. His most recent book, Stem Cell Revolution creates awareness and promotion of stem cell treatments/therapy, PRP, etc., to the general public.
Because of Dr. Christiano's reputation of over 50 years in the field of health, wellness and pain management, he has gained international attention and celebrity for stem cell healing. He receives inquiries daily from across the U.S. and Canada, with patients asking for names of physicians who practice Stem Cell Therapy and want Dr. Christiano's personal recommendation for reliable stem cell practices. Dr. Christiano simply connects potential stem cell patients with reputable Stem Cell Physicians, like you, to our network website: stemcelldocs.net/
(Below are just a few of the types of venues Dr. Joe makes regular appearances on.)
Are you ready to increase the number of patients you see through the exposure of our highly publicized network? Click below to get started for $1800/annually.
When I learned of the Stem Cell Physicians Network, I instantly recognized the value it could bring to my practice. I was more than eager to sign up and and have received several new patients!
Helmut Makosch
I'm pleased to promote the Stem Cell Physicians Network for connecting patients to stem cell physicians. Just one new patient will more than cover the cost to join.
Joseph Christiano
© 2019 stem cell therapy physicians network. All rights reserved.